CS: GO, or Counter-Strike: Global Offensive, has seen a surge in popularity over the past decade. One element of the game that has captivated players worldwide is its wide variety of weapon skins. This blog post will dive deep into the top 20 M4A1-S skins in CS: GO that have caught our attention.
The M4A1-S, a silenced variant of the M4A1, is a favored weapon among CS: GO players. Its precision, quietness, and its capacity for stealth make it a popular choice for those who favor tactical gameplay. Beyond its functionality, the skins available for the M4A1-S also make it an aesthetic favorite. Let's delve into the top 20 M4A1-S skins that every CS: GO player should consider for their collection.
1. M4A1-S | Hyper Beast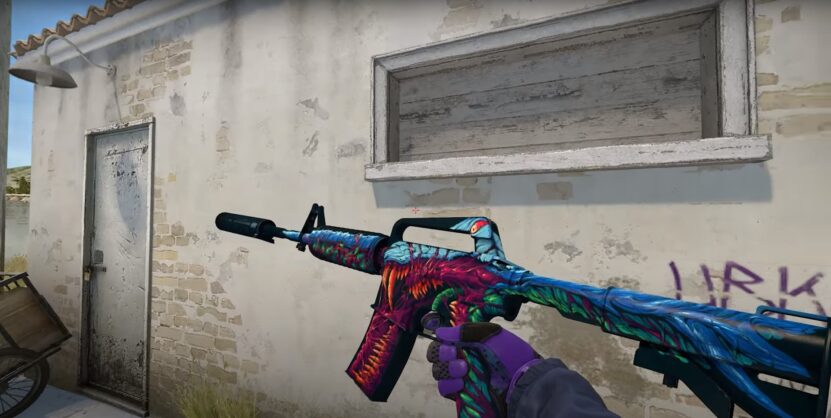 Hyper Beast, as the name suggests, is one of the most vibrant and exciting skins available. It's a top-tier skin, not only because of its intricate beast design but also due to its eye-catching blend of neon colors.
The artist, Brock Hofer, has created an intricate depiction of a beast that covers the whole gun, making it stand out in any player's hands. The colors used in this design, ranging from turquoise to hot pink, create a stark contrast to most traditional military aesthetics.
2. M4A1-S | Golden Coil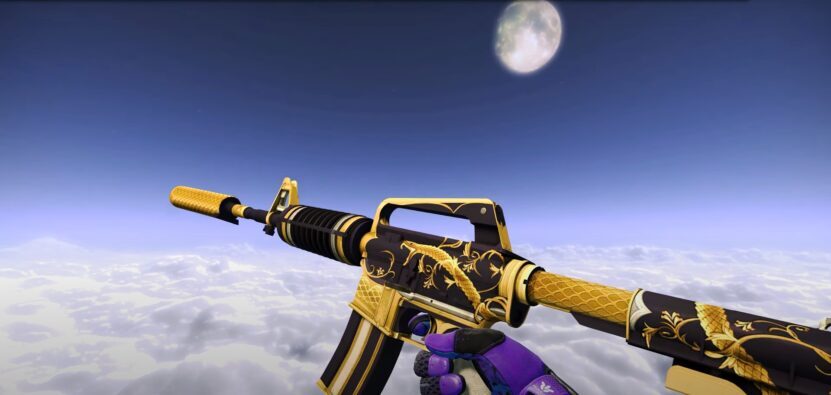 The Golden Coil skin strikes a balance between elegance and ferocity. Its gold and black design features a snake coiling around the gun, hinting at the deadly accuracy of the player wielding this weapon.
This skin also offers a shine effect under the right lighting, giving it a premium feel. The skin, with its air of luxury and danger, is a top-tier choice for players who want to convey a sense of prestige on the battlefield.
3. M4A1-S | Decimator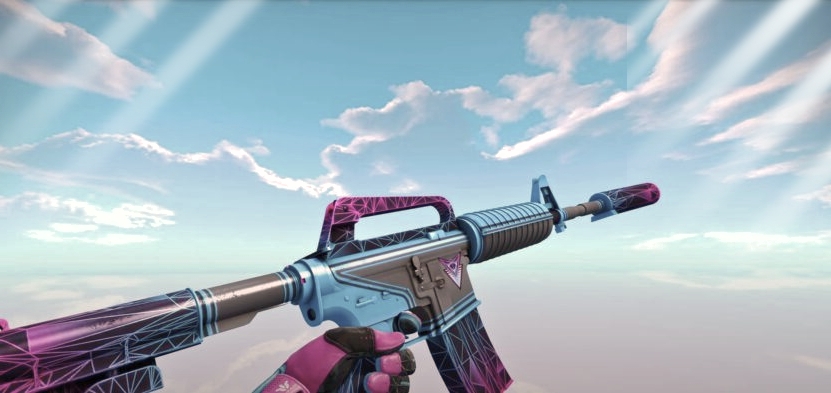 Decimator is a futuristic skin that carries an air of authority. It's a fitting choice for players who want to communicate a high-tech approach to the game.
The Decimator skin's standout feature is its iridescent color scheme, which can range from electric blue to a subtle, fiery orange. It's a bold design choice that screams 'futuristic' and is likely to turn heads in any match.
4. M4A1-S | Chantico's Fire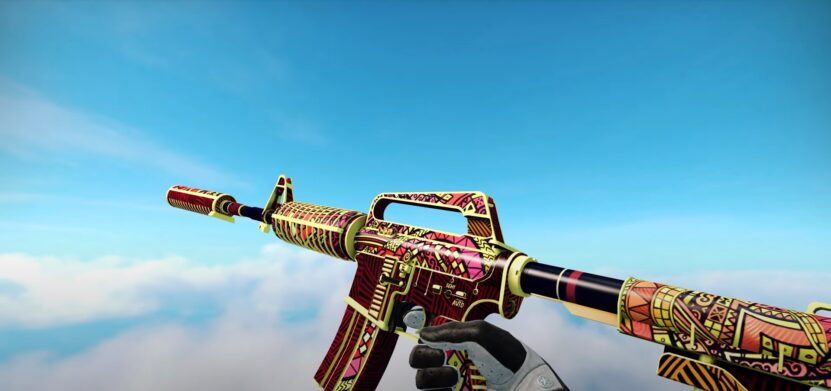 Chantico's Fire is a tribute to the Aztec goddess of fire, Chantico. The fiery hues combined with the ancient Aztec design make this skin an absolute showstopper.
The detailing on this skin is remarkable. It's an amalgamation of history and gaming – a tribute to the past while playing in the present. The vibrant reds and oranges effectively symbolize the theme of fire, making this skin a top choice for those who like skins with a story.
5. M4A1-S | Icarus Fell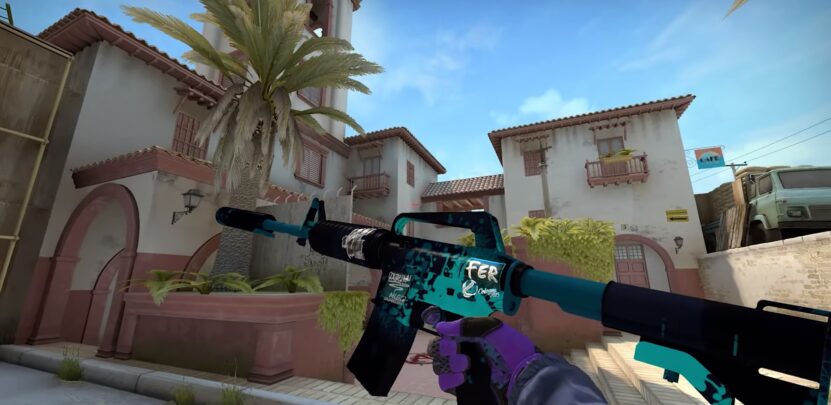 Icarus Fell is another skin that beautifully combines history and gaming. Inspired by the Greek myth of Icarus, who fell to his death after flying too close to the sun, this skin is a must-have for any serious player.
The skin showcases a stunning transition from the dark of space to the light of the sun. It's a skin that is both visually stunning and rich in mythology, making it a perfect pick for players who appreciate the depth of design.
6. M4A1-S | Guardian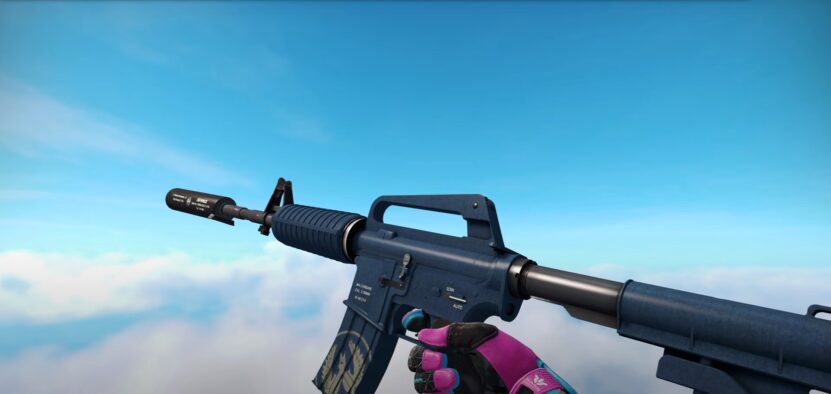 Guardian is a more traditional, military-style skin that offers a clean, sleek look. Its straightforward design is offset by the captivating, two-tone blue color scheme.
The Guardian skin may not be as flashy or colorful as some others, but it stands out for its simplicity and elegance. It's an excellent option for players who prefer an understated aesthetic while still displaying a keen sense of style.
7. M4A1-S | Printstream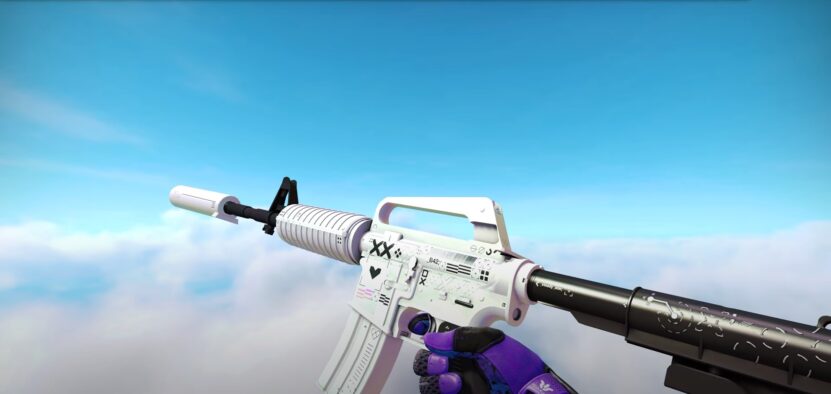 The Printstream skin embodies a modern, minimalistic aesthetic with its predominantly black and white color scheme. It features an abstract, digital print design, adding a level of intrigue to the overall look.
This skin is perfect for players who enjoy a contemporary design. Its subtle metallic finish gives the weapon a polished, professional appearance, making it ideal for those who want to portray a more refined image on the battlefield.
8. M4A1-S | Mecha Industries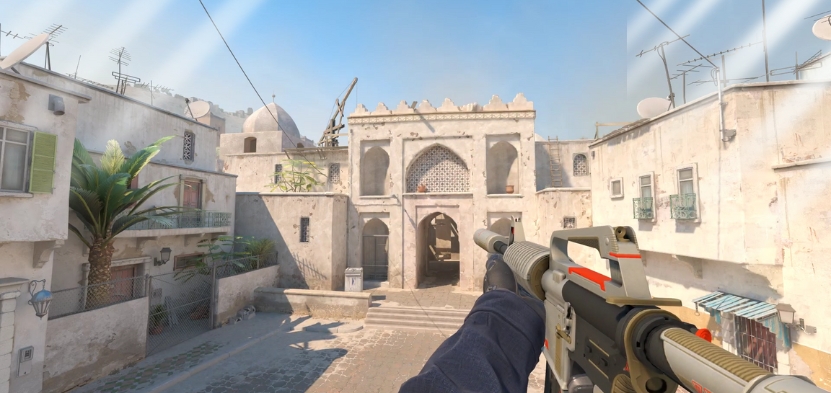 Mecha Industries represents a futuristic, mechanized design aesthetic. Its design features a white base with orange accents and an array of mechanical components.
Its clean lines and high-contrast color scheme provide a visual appeal that communicates both precision and power. The Mecha Industries skin is an excellent choice for players who are drawn to the intersection of technology and design.
9. M4A1-S | Cyrex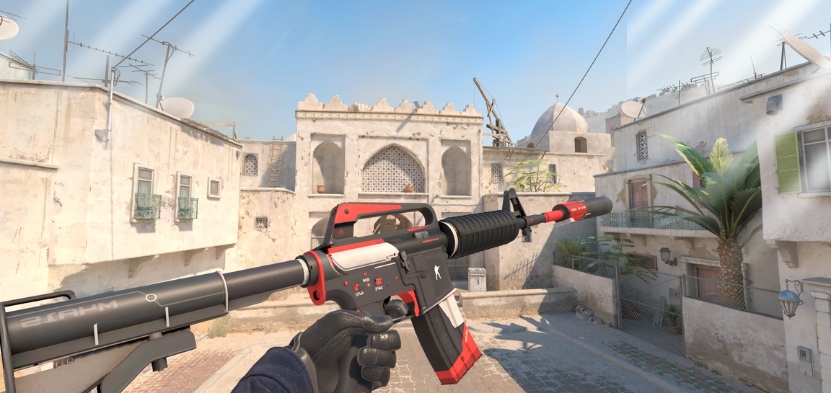 The Cyrex skin features a modern design that combines a fiery red with a stark black. The skin's design gives the impression of a high-tech weapon from a futuristic battlefield.
Its design is bold, sleek, and undeniably striking. The contrast between the intense red and the glossy black gives the Cyrex skin a bold aesthetic that is both modern and timeless.
10. M4A1-S | Player Two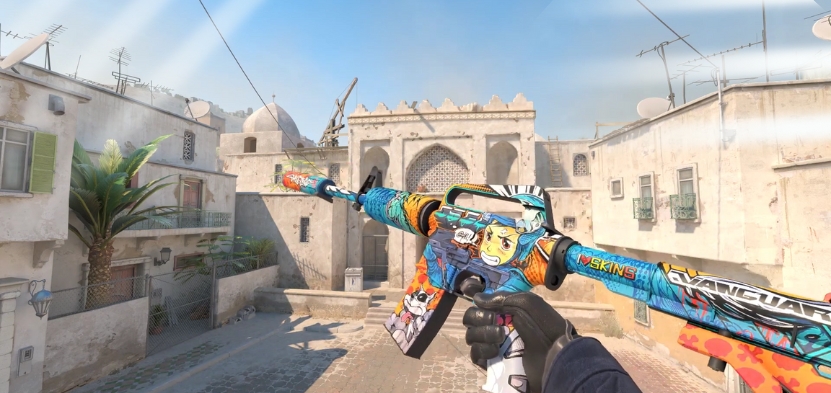 Player Two offers an expressive graffiti-inspired design with a mix of vibrant colors. It showcases a variety of drawings and symbols that seem to tell a story.
The detailing in the design and the use of multiple colors make this skin feel energetic and youthful. It's a fantastic pick for players who want their weapon skin to mirror their love for gaming culture and street art.
11. M4A1-S | Nightmare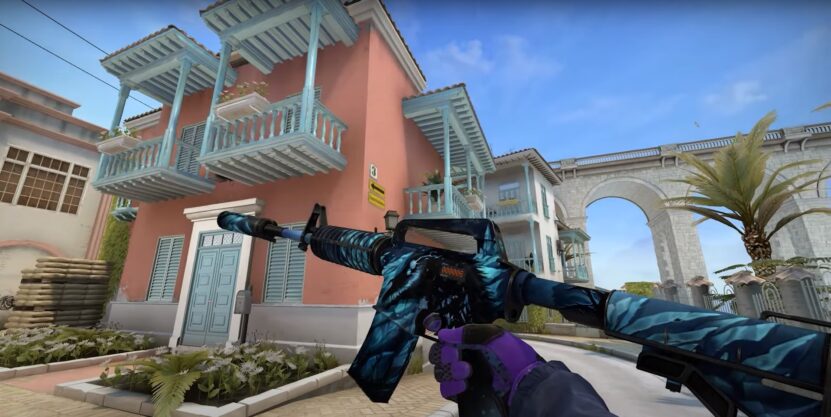 Nightmare, as the name suggests, has a sinister design inspired by nightmarish creatures. The skin combines a multitude of deep blues, purples, and blacks to create a dark, brooding aesthetic.
With a ghastly face adorning the skin and intricate detailing, Nightmare becomes a unique choice for players who want to bring a little horror to the battlefield.
12. M4A1-S | Flashback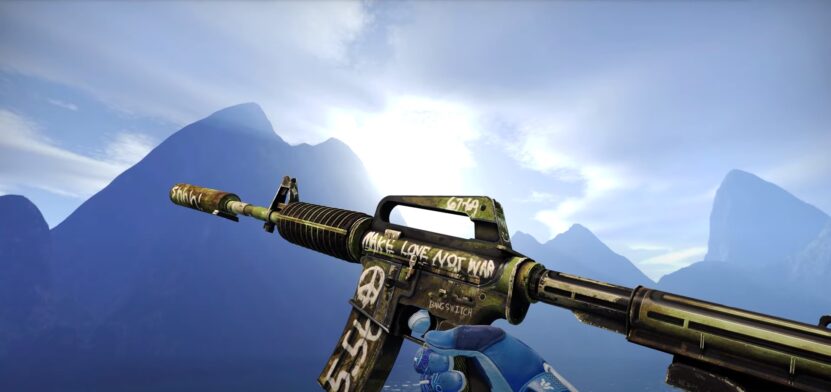 Flashback brings nostalgia to the forefront with a design that pays homage to the original Counter-Strike game. Its green and beige color scheme has a distinctly military feel to it.
This skin, with its retro vibe, is a testament to the longevity of the Counter-Strike series. It's a must-have for players who have been fans since the beginning or those who appreciate a more classic aesthetic.
13. M4A1-S | Moss Quartz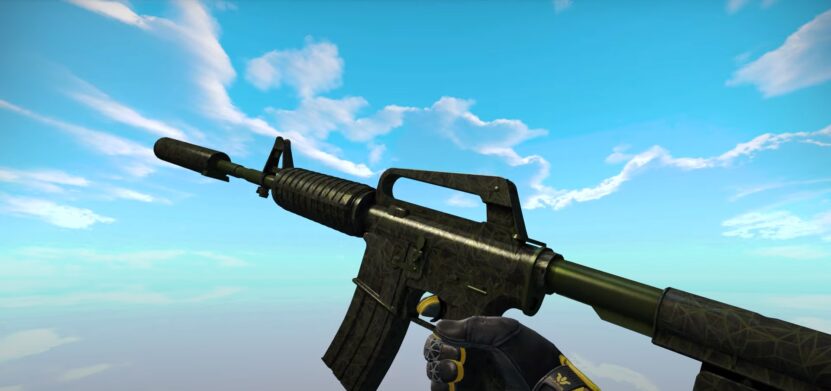 Moss Quartz features a sleek, minimalist design with a focus on green and black. This skin provides an air of subtlety and style that few other skins can match.
The moss-green patterns on a darker background give the skin an elegant, modern look. It's perfect for players who prefer simplicity and elegance over bold, flashy designs.
14. M4A1-S | Masterpiece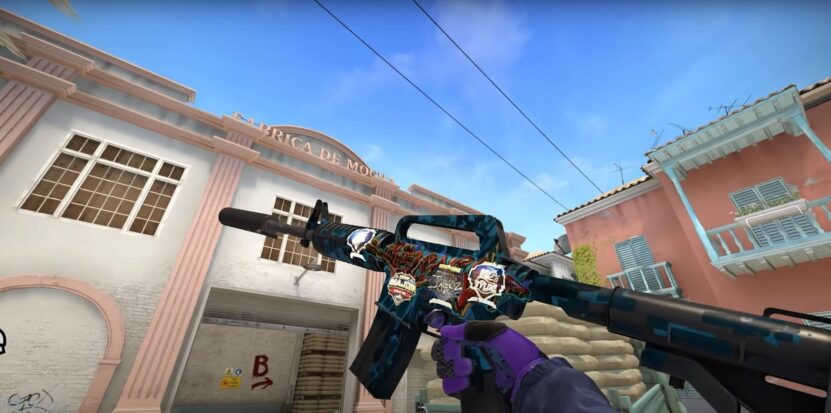 Master Piece is a skin that lives up to its name. It features a graffiti-inspired design that is both chaotic and artistic, perfect for players who want to bring a touch of street art to their gameplay.
Its dynamic combination of blues, reds, and yellows, alongside the detailed artwork, makes it a standout choice for players who appreciate vibrant, artistic designs.
15. M4A1-S | Hot Rod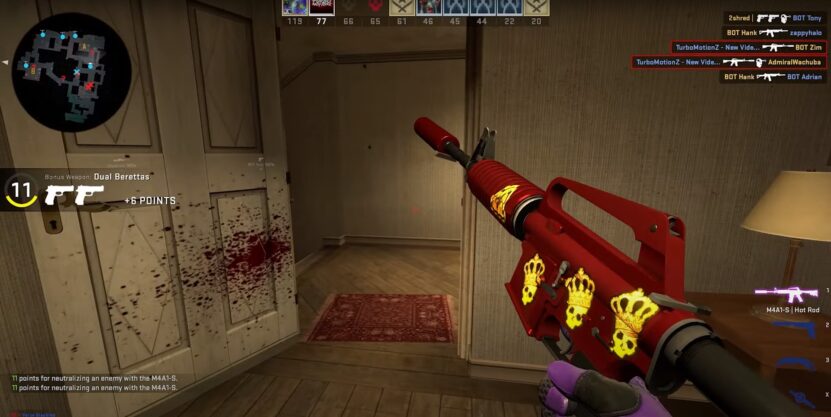 Hot Rod is a skin for players who love a good, clean look with a touch of hot rod red. This skin is minimalistic, featuring a vibrant red finish that makes the gun look sleek and stylish.
The skin's clean design, paired with its bold color, gives it an elegant and attention-grabbing look. It's a perfect choice for players looking to make a statement without sacrificing style.
16. M4A1-S | Atomic Alloy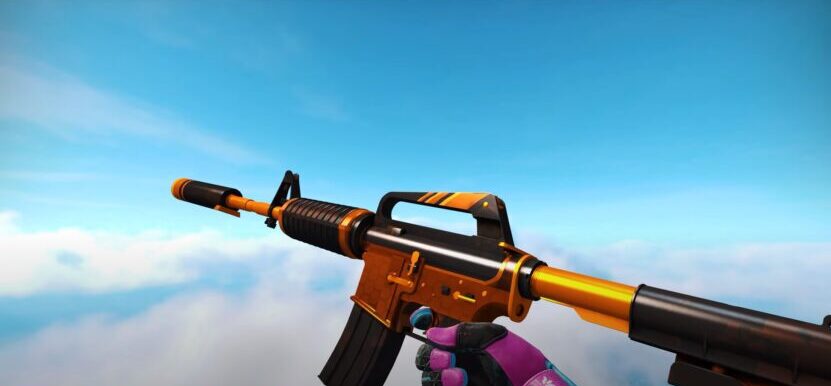 Atomic Alloy is a blend of technology and style. It features a design inspired by the atomic age, with radioactive symbols and a metallic finish that gives it a unique, sci-fi aesthetic.
The orange, gray, and black color palettes, combined with the radioactive theme, make this skin feel like it's straight out of a post-apocalyptic world. It's an excellent pick for players who want to bring a bit of dystopia to their game.
17. M4A1-S | Basilisk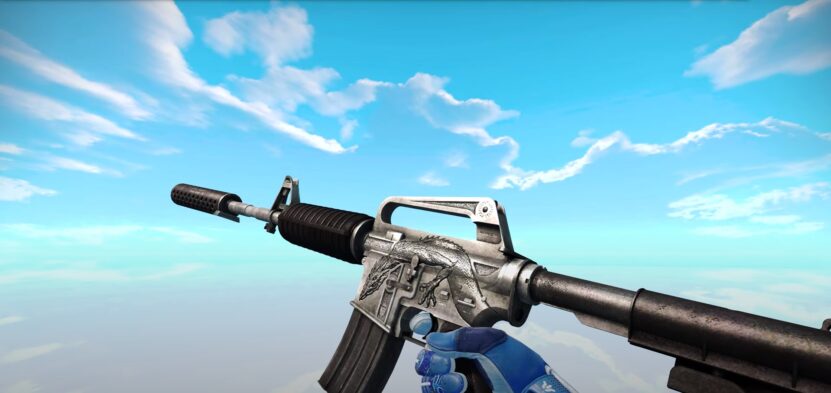 Basilisk features an intricate design of a legendary creature, the basilisk, which is said to be the king of serpents. The skin features a monochrome color scheme that gives it an air of mystery and intrigue.
The detailing of the basilisk creature, paired with the black and silver tones, creates a dramatic and stylish aesthetic. It's a perfect choice for players who love skins that combine myth and mystery.
18. M4A1-S | Leaded Glass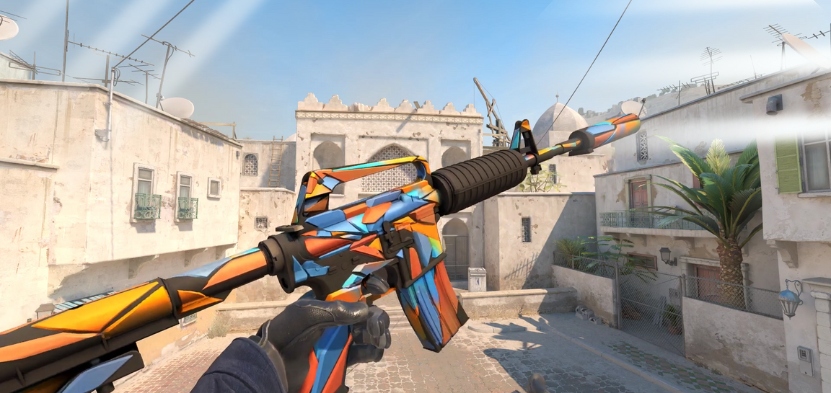 Leaded Glass offers a unique stained glass design, setting it apart from most other skins. It features an array of colors in a pattern reminiscent of traditional stained glass windows.
Its colorful design and intricate pattern make this skin both beautiful and distinct. The Leaded Glass skin is a great choice for players who enjoy more creative, unconventional designs.
19. M4A1-S | Briefing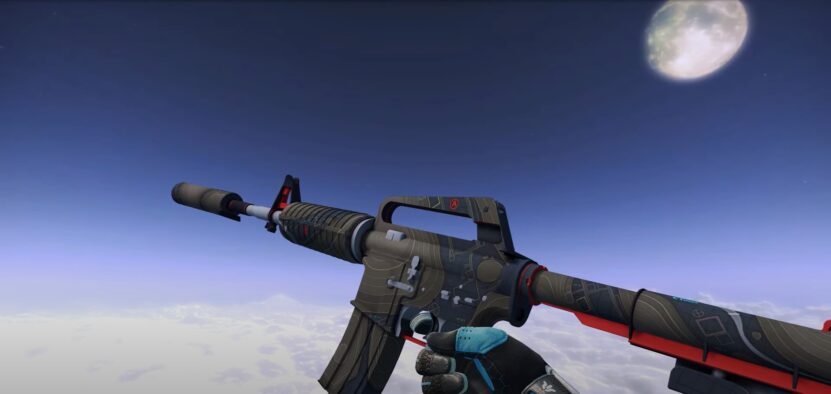 Briefing is a skin that radiates a military vibe, featuring a camo pattern in various shades of green. It gives the gun a rugged, battle-ready look that is perfect for players who prefer a more traditional aesthetic.
The camouflage pattern is subtle yet effective in conveying a sense of preparedness for any in-game situation. The Briefing skin is an ideal pick for players looking to keep their game grounded in the world of military tactics.
20. M4A1-S | Control Panel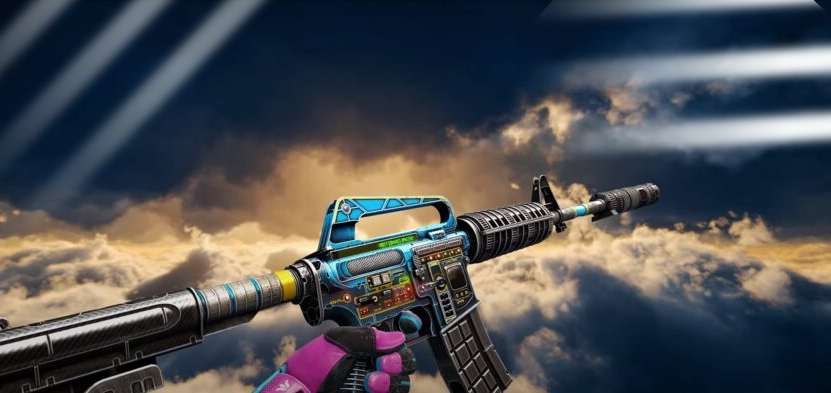 Control Panel takes inspiration from a mechanized interface featuring a metallic base with colorful buttons and switches. It's a skin for the tech-savvy player who likes to show off their love for all things digital.
Its intricate design gives the weapon a unique look that stands out from the usual military or fantasy-inspired skins. The Control Panel skin is a stellar choice for players who love a combination of technology and gaming.
Final Words
And there you have it – the 20 best M4A1-S skins in CS: GO! Each of these skins has a unique aesthetic that can add a touch of personal style to your in-game experience. Remember, the best skin for you will always be the one that you enjoy the most – so pick the one that speaks to your style and own the battlefield. If you're looking for another shooter game to play why not take a look at our review on the exceptionally unique shooter game Darkness Rollercoaster.