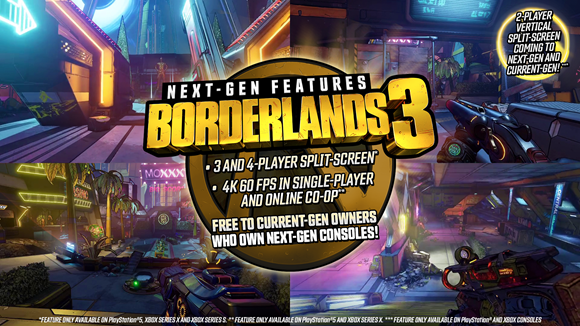 Yesterday I wrote about how Square Enix and People Can Fly announced that looter shooter Outriders was delayed two more months but were releasing a demo in February. Today I want to spend a couple minutes talking about my current favorite looter shooter Borderlands 3 and the Next-Gen Upgrade it received when the Playstation 5 was released.
Gearbox and 2K's Borderlands games are my favorite game series. I've been a huge fan of the series since the first game was released in 2009. Borderlands 2 which was released in 2012 is one of my favorite games of all time. I played it on Playstation 3, Playstation 4 via the Handsome Collection, and even played it on the wonderful but neglected Playstation Vita.
Borderlands 3 was released in September of 2019 and I haven't stopped playing it since release. The Playstation Brah asked me last night how many hours I put into it and via the Main Menu of the game I saw that I had over 18 days (432 hours) of play time! I'm not the biggest gamer so for me to even put 100 hours into the same game is impressive.
Even before the Next-Gen Upgrade, I was already in love with Borderlands 3. Sure, the story and villains were nowhere near as good as those in Borderlands 2 but everything else was improved. The humor was still the same (and that style of humor is not for everyone but I love it). The quality of life improvements were much needed and appreciated. The missions and side missions were better handled. The overall gameplay was just better. Not to mention the game is just fun which is my number one factor when considering a game.
Also, Gearbox has gone to great lengths to listen to the fans and continue to improve the game well after release. The game was getting weekly Hot Fixes until recently where now they do Hot Fixes every two weeks. I can't stress how much I love and appreciate Gearbox for continuing to improve the game.
The Next-Gen Upgrade greatly improved this game for me making it even better. Playing in 4K with HDR and 60 FPS was a huge improvement. But more importantly the loading times were reduced dramatically. This is a huge deal. In Borderlands, you have to do quite a bit of farming to get specific weapons you want. You'd kill the boss, quit to the main menu, and start again. The load times were so bad. It made farming a pain. But now it is so much better. It is much easier to farm now. It's just pure joy for me to play this game!
Best of all, the Next-Gen Upgrade is available for FREE to ALL who own the game! This isn't backwards compatibility we are talking about here. This is the PS5 version of the game! I can't stress enough how the Next-Gen Upgrade made a great game even better.
The base game of Borderlands 3 is on PS4 is currently $18 on Amazon and it's totally worth it. Sometimes, you can find even better deals than this. It's also worth paying for the Season 1 and Season 2 DLC packs! I've written all this and haven't even talked about how much I love the new Arms Race Mode that came with the Season 2 DLC.
I know I'm late on talking about this (as I stated in yesterday's Outsiders article, The Brah forgot to wake me when the PS5 came out). It's not too late to pick up this game and enjoy it!
Happy Vault Hunting!